Davis Davis, aka @samenametwice, became an honorary Savannah Banana for 2 games in September!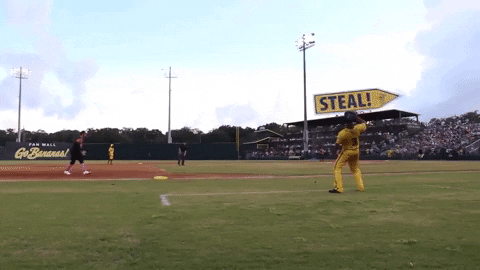 The Savannah Bananas are an exhibition baseball team based in Savannah, Georgia. The team was founded in 2016 and has played at Grayson Stadium since its inaugural season. Until 2022, the Bananas competed in the Coastal Plain League's (CPL) West division, where they won three Petitt Cup championships (2016, 2021, and 2022). The team has sold out every game since the first season in Savannah and every city on the Banana Ball World Tour. The team has been featured by ESPN, The Wall Street Journal, and Sports Illustrated because of its on-field hijinks and viral videos. The Bananas were named the league's organization of the year in both 2016 and 2017.
From welcoming the crowd in to subbing in as the third base coach, Davis Davis provided The Savannah Bananas with the spark of energy that was needed. With his "Go Bananas," "Steal," and "Ryan Cox" signs, Davis entertained the sold out crowds of more than 3,500 fans.